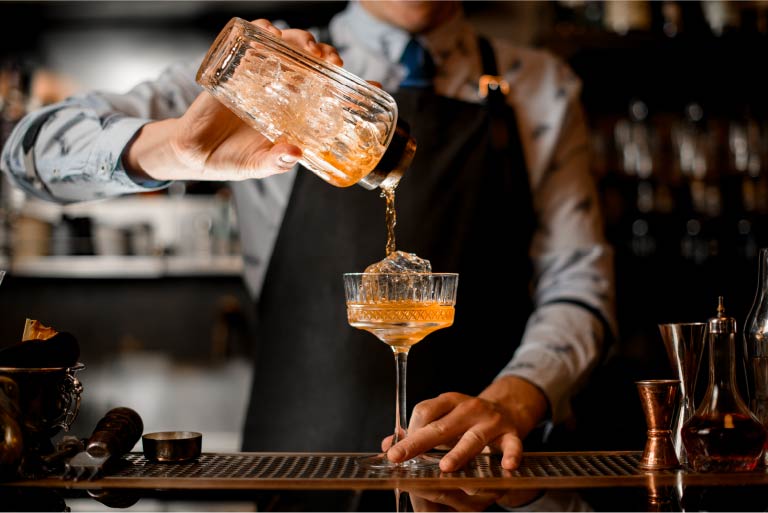 In direct contact with the 
Restaurant Manager
 and in cooperation with the Sommelier, the Bartender is creative, passionate about mixology, and an expert in service!
The Bartender's activities consist of developing a menu that offers classic cocktails, but above all, creating unique compositions, serving them, and presenting them to customers. He or she must select quality suppliers, manage purchasing and inventory, and regularly source new products and suppliers.
As a good manager, he or she must establish and manage the department's budget but also train and manage his or her team. He or she guarantees customer satisfaction and loyalty, and the atmosphere of the bar.
Being proactive, he or she may, for example, create new cocktails and introduce products or new techniques to attract a broader clientele.
The key to success in becoming Bartender
Education: a professional aptitude certificate (CAP) in restaurant management or professional qualifications diploma (BEP) in hospitality-restaurant management, supplemented by an additional bartender specialisation, a professional bartender diploma, a bachelor's degree or diploma in restaurant management, or specific training at a school specialising in mixology. Professional training at specialised schools is also possible. Complete fluency in English or a second language is essential.
Choice of establishment: This position exists at prestigious bars, hotel bars, some very upscale restaurants, clubs, and nightclubs.
The path to success: It is most commonly attained through a bar-back or assistant bartender position. It is recommended to do internships at different types of bars, such as hotel bar, cocktail bar, whiskey bar, or club bar to diversify your experience and develop skills.
1st year:
 Bar-back. This will allow you to develop your sense of the customer relations and teach you the basics of service.
2nd year: Assistant Bartender. This will allow you to understand the organisation and creation of the menu, product cost management, budget preparation and administration, and a concrete approach to management.
30 years of experience in the international hospitality industry, the culinary arts, and student training and support allow the TALENT DEVELOPER team to draw from a large network and support you in your professional plan.