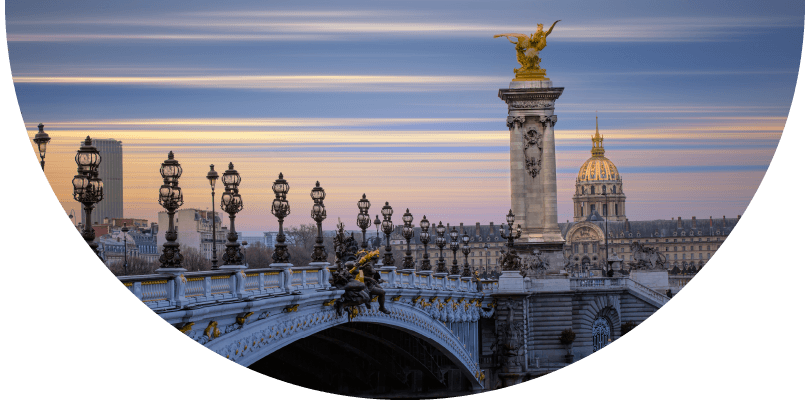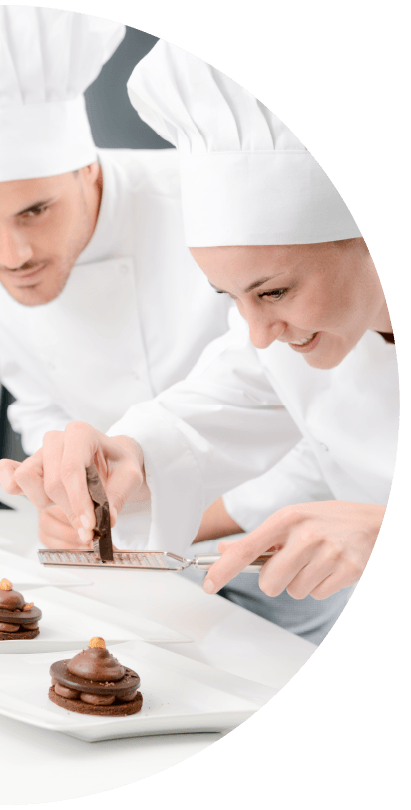 Enjoy a customised experience at a company, developed according to your training, your desires, your skills, and your professional plan
To do this, we select the best mentors for you who will be able to welcome you, support you, pass on their values, their knowledge, and train you in the practical realities of the profession you have chosen. This experience is the start and the anchor point of a virtuous circle for acquiring unique skills and allowing you to go even further so that you flourish in your future profession.
Joining the best establishments in Paris will allow you to have an exceptional experience.
The "City of Light", considered the global centre of art, fashion, and luxury, but above all, the capital of gastronomy, hospitality, and culture, is open to you. What could be more exciting than having a unique experience by coming to do your internship in the best hotels and restaurants in the world while improving your skills so that, at the end of your training, you hold the job you have always dreamed of.
As a student, you will maximise your chances of earning your diploma and will develop your professional network. While at a company, you will acquire know-how and sharpen your interpersonal skills to be better prepared for the realities of the working world.
For foreign students, this experience will not only allow you to learn a profession, but also to understand other management methods and to develop a sense of multiculturality while practicing French.
Don't let your prospects slip away. Be an actor in your future!
Choose the package that best meets your expectations :
For French students looking for an internship or apprenticeship
Discover all the steps
To support you before your internship or apprenticeship contract
1. First interview, with no obligation on your part, in order to:
Understand your expectations, your personality, your work skills and, most importantly, your professional plan.
You will receive a report containing a career plan for best achieving your goals.
2. Exclusive educational content:
Access to the online course catalogue to help you create your CV, cover letter, and to develop your knowledge of professional culture.
3. Application to company:
We select the company from our network that best suits the needs we have identified for you.
We submit your application to the company, highlighting your interpersonal skills and your know-how.
We provide you with the company's contact information and set up an interview with its recruiter.
We help you prepare for the interview by providing you with a list of typical questions, as well as the philosophy and expectations specific to that establishment.
We assist you with the signing of your internship agreement.
To guide you during your internship or apprenticeship contract
1. Your future network:
We invite you to a breakfast with all the students who are new during the same period as you, which will allow you to build a network of future international and French talents.
2. We support you throughout your period at the company:
We contact you at the beginning, in the middle, and at the end to take stock.
We organise a visit to your host company with your mentor to take stock of your progress at the company.
We remain entirely at your disposal throughout your period at the company.
To move forward after your internship or apprenticeship contract
1. Meeting at the end of your company training:
We help you synthesise the skills acquired and promote them for your professional future.
We guide you in the development of your career and your professional goals.
2. The TALENT DEVELOPER website
You retain privileged access to your personal profile and to the TALENT DEVELOPER website and, as such, access to our exclusive job offers.
To get organised before your arrival in Paris (find accommodations, obtain a transport pass, take out insurance, etc.) we have selected a range of services from quality partners and invite you to discover them by clicking on the tab «Our à la Carte Services»
Fees
The price of the Future Talent Package is €500, tax included
A deposit of 30% is due upon signing of the contract with TALENT DEVELOPER.
The balance of the package is due before the interview with the host company
You are interested in our package, contact us to meet us
All of our à la carte services and activities
TALENT DEVELOPER answers all questions about everyday life that will make your stay in Paris easier :
How do I find accommodations?
The real estate market in Paris is notorious for being saturated and difficult to access and we know that finding accommodations is very time consuming and stressful.
We have selected two partner companies to help and support you in your search for accommodations suited to your desires and your budget.
Whether you want to live with a host family in order to integrate yourself and become familiar with Parisian life, or have your independence in a private apartment, you can confidently rely on our partners to find your place in Paris.
Private Accommodations:
Paris- Hospitality : You want to have your independence and can take advantage of accommodations services to get it. From studios to five rooms through student residences, you will find more than 500 accommodations solutions.
Homestay Accommodations:
Atome : If you're looking for accommodations and a unique experience, Atome offers homestay solutions at family B&Bs with meal options. A reassuring, practical, and classic solution for fully experiencing Paris.
How do I get around?
With public transportation (Bus, Metro, RER, and tram), Uber, taxis, bicycles and scooters, etc. you'll always be on the move, just like the city welcoming you!
Upon arrival in Paris, you can book a transfer from the airport to your apartment directly through Paris- Hospitality.
If you wish to take public transportation, we offer to send you a transport card (NAVIGO), which you just have to top up with the package of your choice when you arrive at the airport.
Talent Developer takes care of creating an account for you and sending you your Navigo Pass (Paris transport card) by post before your arrival in Paris (subject to postal delays) for €15, tax included (+ Postage).
How do I get insurance?
In France, you must be insured to rent accommodations (renter's insurance) or to do an internship at a company (civil liability insurance and health insurance).
Your landlord and the host company will request an insurance certificate from you before you begin.
If you already have health and/or civil liability insurance in your country and this covers you in France, you can submit a certificate to that effect (including the terms and dates of coverage).
If not, or if your insurance coverage cannot be extended to France, you can contact our partner Paris- Hospitality, which offers solutions adapted to foreign students.
How do I get my visa?
We are working on this subject to quickly provide you with explanations and to put you in contact with the people who can help you make this process easier.
How do I get a SIM card?
When you arrive in France, you will need a telephone number to facilitate your integration and your communication with the host company. Most of your internship mentors will ask you for a number in France.
There are several options for getting a number in France:
Go directly to a prepaid card point of sale and buy your card, then top it up. Tobacco shops frequently offer this service
Subscribe to a longer-term fixed monthly plan through French operators* (Bouygues, Free, Orange, SFR, etc.).
*Be careful not to commit for an extended period, which will oblige you to continue paying even after your departure.
Paris-Hospitality also offers prepaid cards on its website
How to get internet service
When you arrive in France, you will be able to connect to the free Wi-Fi available in public and private locations (cafes and restaurants) in Paris.
Few private Parisian accommodations include internet service.
However, if you wish, you can very easily purchase internet service.
There are several available operators (Free, SFR, Orange, etc.).
For €50, tax included (excluding monthly fee) T.D. offers to help you sign up for this service and assist you with any related procedures.
If you have a particular need that is not on this list, please let us know and we will try to find a solution with our carefully selected partners in order to fulfil your request
Get additional experience and familiarise yourself with French gastronomic culture as intimately as possible by taking advantage of our exclusive activities :
Carole Meteyer The Gourmet Route
We are working on this topic to bring you information soon.
Wine Culture Course
We are working on this topic to bring you information soon.
Pastry Course
We are working on this topic to bring you information soon.
Cuisine Course
We are working on this topic to bring you information soon.
You are interested in our à la carte services, please contact us
Want to go further with TALENT DEVELOPER?
If you are looking for more in-depth support, we have developed
additional "à la carte" services to take you even further.
Talent Developer
supports you in all your endeavours and for all your needs related to your experience at a company.
Job interview training (average duration 1h30):
We know that interviewing can be stressful and that preparation is key to feeling comfortable in all situations and with all types of recruiters. With the package you have chosen, you will receive sample questions and information about the company's philosophy.
If you need to be reassured by being put in a similar situation, we offer to guide you by conducting job interviews with different scenarios. You will be perfectly ready to answer all the questions on D-Day and maximise your chances of getting the internship of your dreams!
For €95, tax included, Talent Developer will prepare you remotely or face-to-face in our offices.
Additional Company Visit
Have a question? A problem? Need to take stock? We can organise an additional visit to your host company by contacting your internship mentor to facilitate communication.
We will listen to your questions, study the solutions we can provide for you, propose a plan of action, and if necessary, find any legal texts that may support your talks.
For €135, tax included, your personal contact at Talent Developer will travel and much more!
If you require any further information, please contact us
TALENT DEVELOPER, a team that has perfect knowledge of the international hospitality industry, the culinary arts, student training and support.