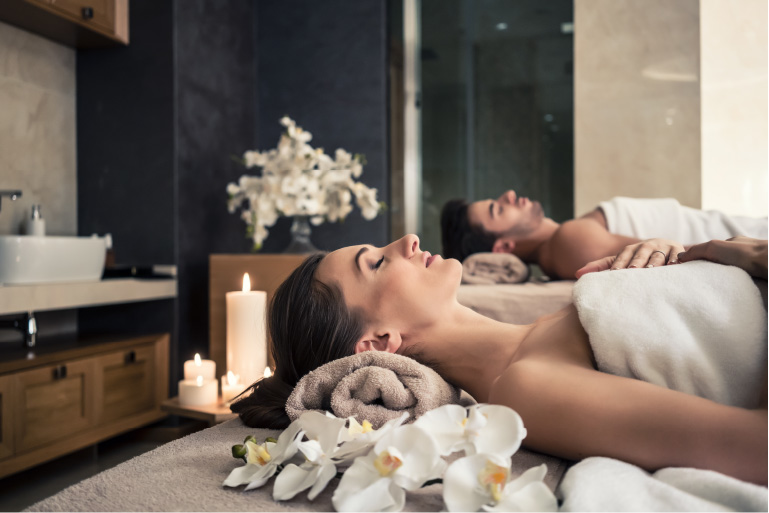 An essential service at an upscale hotel, the Spa Manager and his or her team are there to provide a unique and unforgettable experience of well-being and relaxation for its customers.
The main activity of the Spa Manager consists of developing a customised personal care and services menu, often in cooperation with a brand of high-end beauty products. Managing appointment scheduling is an important aspect to satisfying a very demanding clientele. There is also sometimes a space for selling beauty products that must be made profitable. He or she supervises an operational team and is in charge of training on different personal care techniques. He/she is also responsible for the management of costs and revenues, the development of provisional budgets, and customer satisfaction. He or she monitors the quality of the services and ensures good organisation of the spa.
This is a department where, through customised offerings, the quality of the service and customer loyalty come first and foremost. Therefore, the Spa Manager is well acquainted with his or her clients.
Working in the spa requires discretion, an appetite for client relations, and technical expertise mastered in the practice of personal care and consultation.
The key to success in becoming Spa Manager
Education: Advanced vocational diploma (BTS) in aesthetics, technical business management, or a two-year master's degree in hospitality with additional training in aesthetics will be necessary to attain the position of Spa Manager. Professional training at specialised schools is also possible. Specialisations in various fields will be an additional asset for fulfilling the specific needs of different types of spas (massage: Swedish, Thai, Californian, hot stone, reflexology, etc.). Fluency in English is essential.
Choice of establishment: If you want to become a hotel Spa Manager, you should go to a very high-end establishment (five-star or luxury-type hotel).
The path to success: To become a Spa Manager you must climb the ranks of the department. It is most commonly attained through an aesthetician-masseur position, then Assistant Spa Manager, or by choosing to advance to the position through customer service (reception or guest relations), followed by training in aesthetics and massage.
It is interesting to do internships at the spas of different establishments.
1st year:
 Aesthetician (with a specialisation) in order to have an operational job in the field of aesthetics, or Receptionist or Assistant Guest Relations Manager in order to have interpersonal experience in the field of department organisation and customer service.
2nd year: Assistant Spa Manager. You will be closely involved in the organisation and operations of this dedicated space, along with personnel management and budget management. You will learn to adapt and respond to the needs of a demanding clientele in order to provide services in line with the high-end offerings of a hotel spa.
30 years of experience in the international hospitality industry, the culinary arts, and student training and support allow the TALENT DEVELOPER team to draw from a large network and support you in your professional plan.