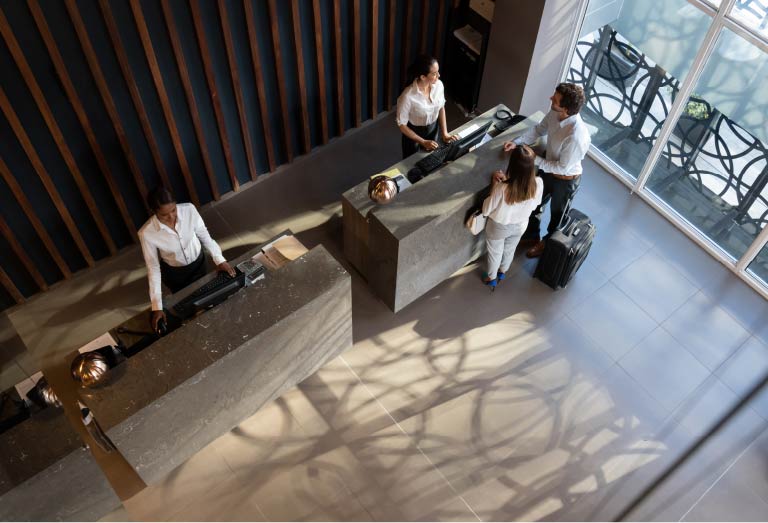 Right arm of the Hotel Manager, the Accommodations Manager keeps an eye on customer service and room occupancy rates.
The Accommodations Manager is passionate about hospitality and service!
An important part of the Accommodations Manager's activities consists of managing the "rooms" section of the budget: cost and revenue management, preparation of provisional budgets, customer and employee satisfaction, etc. He or she monitors the quality of services and the proper organisation of the various tasks to be performed in all hotel departments related to accommodations. Being proactive, he or she can thus decide on new working methods, or offer new services to attract a broader clientele.
The key to success in becoming Accommodations Manager
Education: Bachelor's degree or diploma in hospitality and/or restaurant management, then a master's degree in management and administration. Professional training at specialised schools is also possible.
Choice of establishment: If you want to work in a large group, you should go to a chain-type establishment or join an established hotel group. If you want to open your own hotel, independent establishments in which the tasks are very diverse and where your versatility will be essential, will be more suited to developing your skills.
The path to success: It is most commonly attained through a Reception Manager or Executive Housekeeper position. It is more interesting to do internships in both departments during your studies and to alternate each year.
1st year: Receptionist or Lead Housekeeper. This will allow you to have customer contact and will show you the basics of organising a hotel establishment.
2nd year: Assistant Reception Manager or Assistant Executive Housekeeper . This will immerse you in organising a hotel department or a whole unit, with staff and budget management.
3rd year: Assistant Accommodations Manager. You will have a complete view of the organisation of this and related positions and the links between the different departments.
30 years of experience in the international hospitality industry, the culinary arts, and student training and support allow the TALENT DEVELOPER team to draw from a large network and support you in your professional plan.