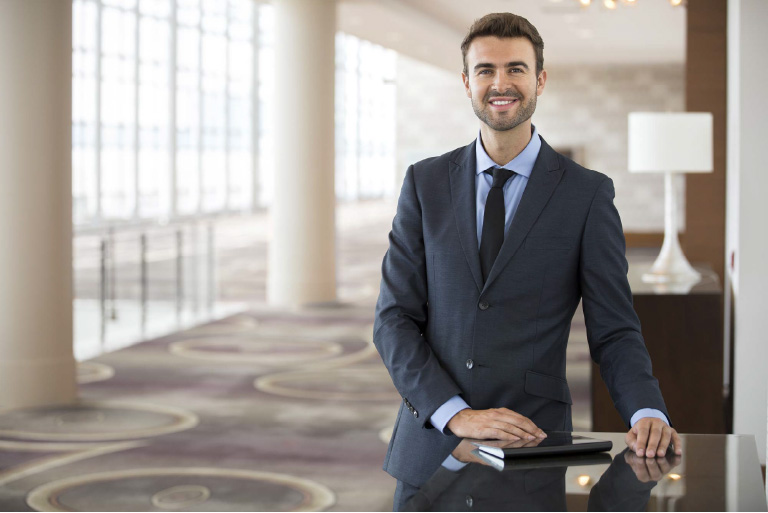 The Hotel Manager is a wise business leader. The good health of his or her establishment is based on his or her qualities as administrator, manager, strategist, salesperson, etc.
The Hotel Manager is the head of the establishment: he or she is who centralises information, directs, organises, and coordinates the various departments.
As a good manager, he or she ensures the profitability of the establishment and its operating costs. He or she also sets financial goals, monitors revenue, and budgets investments. He or she defines business strategy and policy, prospects for new customers, develops new markets, and organises promotional operations.
The key to success in becoming Hotel Manager
Education: Bachelor's degree or diploma in hospitality, restaurant management, business, management, or administration, then a master's degree in administration, finance, and management. Professional training at specialised schools is also possible.
Choice of establishment: If you want to work in a large group, you should go to a chain-type establishment or join an established hotel group. If you want to open your own hotel, independent establishments in which the tasks are very diverse and for which your versatility will be essential, will be more suited to developing your skills.
The path to success: It is most commonly attained through an Accommodations Manager  or Restaurant Manager position. After several years of experience in these roles, you will be able to apply for the position of Hotel Manager.
30 years of experience in the international hospitality industry, the culinary arts, and student training and support allow the TALENT DEVELOPER team to draw from a large network and support you in your professional plan.