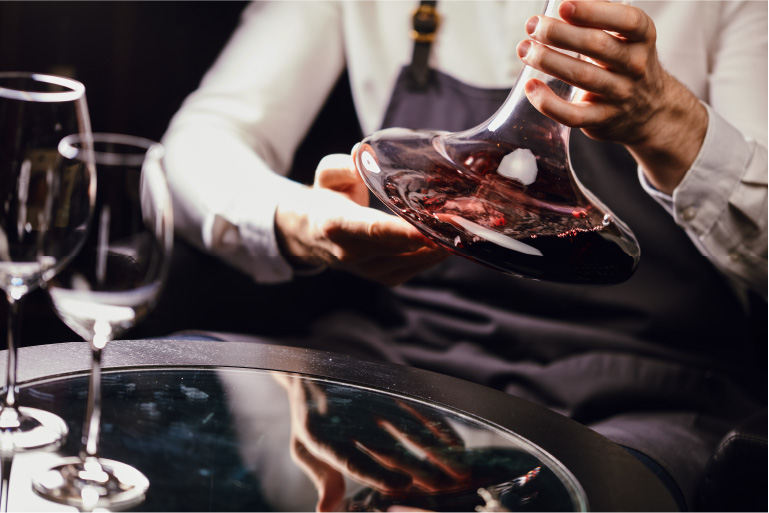 Right arm of the Restaurant Manager and in perfect cooperation with the Chef and the Pastry Chef , the Sommelier is responsible for the wine and spirits list and for managing the restaurant's cellar.
The Sommelier is passionate about wine and service!
An important part of the Sommelier's activities is to be in charge of the restaurant's cellar: he or she chooses the wines, purchases them from the winemakers, and creates a varied and original menu to accompany the restaurant's cuisine in a perfect pairing of food and wine. He or she is also in charge of spirits and liqueurs. He or she is responsible for the inventory in the cellar and proper bottle conservation. His or her extensive knowledge of the vineyards, grape varieties, and winemaking methods in France and abroad make him or her a proactive source for attracting a broader clientele.
The Sommelier is present during service to advise customers and serve the wines at the table, respecting the very precise rules of the profession: choice of glasses, opening of the bottle, decanting, presentation of the wine and explanations, tasting, then service.
As a good manager, he or she must establish and manage the department's budget, but also train and manage his or her staff.
The key to success in becoming Sommelier
Education: a professional aptitude certificate (CAP) in restaurant management or professional qualifications diploma (BEP) in hospitality-restaurant management, supplemented by an additional wine stewardship specialisation, a professional sommelier diploma, or a bachelor's degree or diploma in oenology, wine stewardship, restaurant management, or specific training at a school specialising in wine. The Sommelier may also have a master's degree specialising in wine and gastronomy or a master's degree in wine and spirits management, or any other specialised master's degree in this field. Complete fluency in English or a second language is essential.
Choice of establishment: This position exists in very high-end restaurants, luxury, or Michelin-starred restaurants.
The path to success: It is most commonly attained through a position of Sommelier Trainee then Assistant Sommelier or restaurant Dining Room Manager. It is interesting to do internships in different types of establishments: Michelin-starred restaurant, upscale hotel restaurant, wine bar, wine cellar, winery, etc.
1st year:
 Back Waiter, Bar-back, Sommelier Trainee in a Michelin-starred restaurant, etc. This will allow you to develop your sense of customer service and to fully understand the organisation of an establishment. Depending on the season during your internship, one or more visits to a winery will be an asset to your career.
2nd year: Sommelier Trainee then Assistant Sommelier in the sommelier department of a hotel. This will allow you to maintain customer contact in a different context and over a longer period of time, then you will discover the basics of the organisation of the establishment.
3rd year: Assistant sommelier. You will understand and master menu organisation and creation, budget preparation, and sommelier team management.
Other career options are open to you if you are passionate about wine: Wine Merchant, Wine Tourism Business Manager, Journalist specialising in wine, Sales Representative, Exporter, etc.
30 years of experience in the international hospitality industry, the culinary arts, and student training and support allow the TALENT DEVELOPER team to draw from a large network and support you in your professional plan.