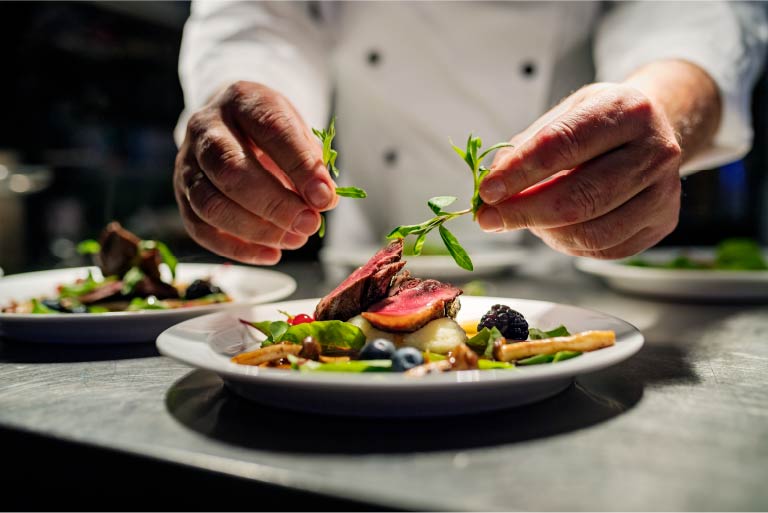 A passionate, inspired creator and true manager, the Chef strongly contributes to the reputation of a restaurant. His or her main concern: to provide his or her customers with an exceptional and unforgettable culinary experience.
A gifted expert and hard worker, the Chef is no less than an artist. It is his or her culinary creations, quality of products, and the aesthetics of the presentations that will attract customers. Suffice it to say that a restaurant's reputation is largely based on him or her. As head of the kitchen, he or she recruits, trains, and directs his or her team.
He or she plays a crucial role, especially in large establishments which must operate as a well-oiled machine and where procedures are well defined. In cooperation with the Restaurant Manager, the manager or owner of the restaurant, or the Hotel Manager, he or she prepares the menus, supervises the purchase of raw materials, as well as the proper execution of dishes in accordance with hygiene rules and specifications established in advance with his team. Like the Pastry Chef, he or she strongly contributes to the reputation of a prestigious establishment.
The key to success in becoming Chef
Education: Professional aptitude certificate (CAP) in cuisine, then technical professional diploma (BTM) or professional cuisine diploma. Bachelor of culinary arts or diploma in cuisine, gastronomy, and management and administration. Professional training at specialised schools is also possible.
Choice of establishment: Cooking takes place at traditional restaurants, as well as in gourmet restaurants, and there are many types of restaurants (bistros, brasseries, themed, etc.) in which to complete your internship.
It is interesting to diversify your experiences and do internships in establishments of different sizes and structures, but the experience of working in a Michelin-starred restaurant is always preferred due to the rigor and job organisation that you can learn there.
The path to success: It is most commonly attained by advancing through all levels of the kitchen team's hierarchy, especially by working with chefs whose reputations are well established.
1st year:
 Kitchen Assistant
2nd year: Assistant Lead Line (appetizers, pantry, etc.)
3rd year: Lead Line (meat, fish, sauces, etc.). This will immerse you in the organisation of a kitchen and you will have to supervise its staff and propose new ideas to the whole team.
30 years of experience in the international hospitality industry, the culinary arts, and student training and support allow the TALENT DEVELOPER team to draw from a large network and support you in your professional plan.