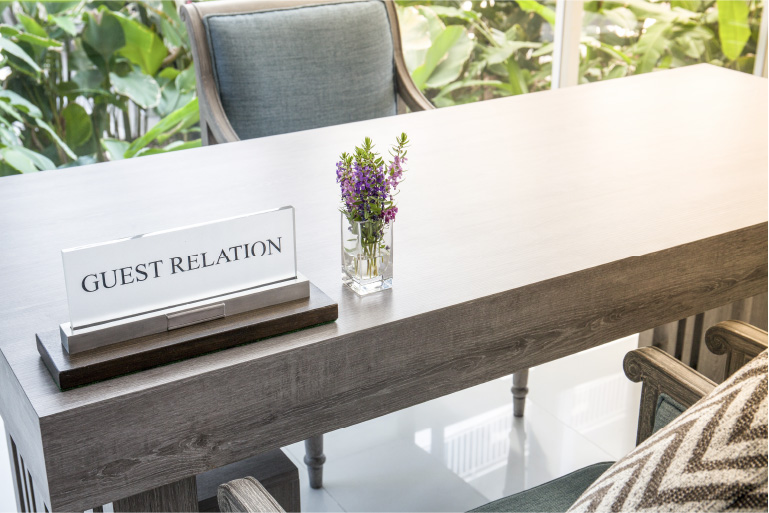 An invaluable collaborator with the Hotel Manager, Accommodations Manager, or Head Concierge, the Guest Relations Manager keeps an eye on customer service.
The Guest Relations Manager is passionate about service and customer satisfaction!
The Guest Relations Manager is responsible for building customer loyalty by customising the services offered according to their profile in order to bring them the greatest satisfaction during their stay. A true communicator, his or her position is cross-disciplinary between different departments, always with the objective of serving the customer in order to provide an unforgettable experience.
An important part of the Guest Relations Manager's activities consists of managing customer requests, the quality of services, and the proper organisation of the various hotel departments. Being proactive, he or she develops and suggests possible services and improvements to entice customers.
The key to success in becoming Guest Relations Manager
Education: At minimum, an advanced vocational diploma (BTS) in management with a hospitality or restaurant management option. A bachelor's degree or diploma in hospitality or business school education will allow you to attain the highest positions more quickly. A master's degree specialising in communications or management will be required at luxury establishments in order to become a department manager. Professional training at specialised schools is also possible. Complete fluency in English and a third language is essential.
Choice of establishment: If you want to work as Guest Relations Manager, you should go to a very high-end establishment (five-star or luxury-type hotel).
The path to success: Experience is preferred in order to become Guest Relations Manager. It is most commonly attained through a position as Receptionist, Reception Manager, or Assistant Guest Relations Manager. It is interesting to do internships in several customer service departments: reception, service/room service, concierge, then Guest Relations
1st year:
 Receptionist or Assistant Concierge. This will allow you to develop your sense of customer service and to fully understand the organisation of a hospitality establishment. You will discover how to implement procedures for quality customer service in order to satisfy a wide variety of customer needs.
2nd year: Assistant Guest Relations Manager. This will immerse you in organising a department, with personnel management and budget management.
30 years of experience in the international hospitality industry, the culinary arts, and student training and support allow the TALENT DEVELOPER team to draw from a large network and support you in your professional plan.