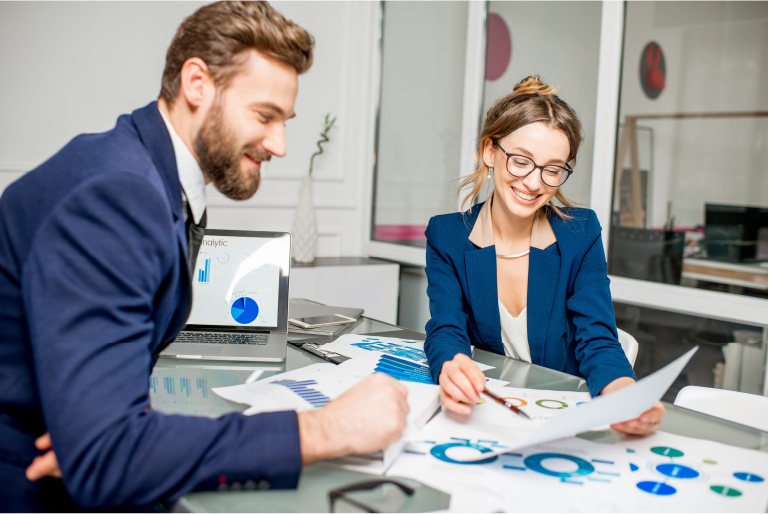 Because of his or her analytical skills and good knowledge of the hospitality and restaurant industries, the Marketing Director fulfils an essential role at the company.
The Marketing Director is a sharp psychologist who must know his or her clients and market trends inside out!
He or she defines and implements the marketing strategy to develop existing markets and create new opportunities for attracting new customers.
The Marketing Director works in close cooperation with the Business Director, the Communications Manager, and the General Manager or Hotel Manager. He or she detects trends and aligns strategies according to the competition and the defined segment. With his or her team, he or she coordinates marketing and communications actions in order to meet market needs in accommodations, catering, and event planning.
His or her analysis makes it possible not only to determine business strategy, but also to devise operational marketing plans and lines of communication.
He or she supervises and defines the objectives of the sales and communications teams and works in cooperation with the Accommodations Director, Restaurant Manager, and Chief Financial Officer (CFO) in order to implement adapted pricing strategies.
The key to success in becoming Marketing Director
Education: A Bachelor's degree or a diploma from a hospitality and/or restaurant management school or a bachelor's degree from a business school, then a master's degree in luxury or international marketing. Professional training at specialised schools is also possible. Complete fluency in English or even a third language is essential. 
Choice of establishment: This position exists in very high-end establishments (luxury type), large establishments, or in hotel or restaurant groups.
The path to success: It is most commonly attained by having a good knowledge of the hospitality and/or restaurant industry and having experience as a marketing manager, product manager, or marketing executive. Experience working in the luxury sector or in upscale luxury-type establishments is highly valued.
30 years of experience in the international hospitality industry, the culinary arts, and student training and support allow the TALENT DEVELOPER team to draw from a large network and support you in your professional plan.